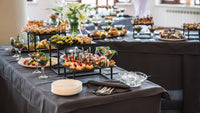 EXQUISITE TASTE, UNCOMPROMISING QUALITY
Kosher Catering in Toronto
Ely's Fine Foods is proud to provide outstanding and authentic Kosher catering services in Toronto. Our commitment to upholding the strictest kosher dietary requirements means that every item we serve complies with long-standing Jewish traditions. Our Kosher catering services provide an outstanding culinary experience that is in line with your dietary requirements and cultural values, whether you are hosting a simple get-together or a high-end business event.
At Ely's Fine Foods, we believe superb catering includes flawless service in addition to outstanding cuisine. Our smooth Jewish catering Toronto experience is a priority for our committed team of culinary experts. We take care of every aspect, from event planning and menu customization to on-time delivery and setup, so you can unwind and enjoy your event.
ELEVATING YOUR BUSINESS EVENTS
First-Rate Corporate Catering Services
Ely's Fine Foods' outstanding corporate catering services will elevate your business occasions. Making a positive impression on your customers, business partners, and workers is important, and our staff is aware of this. Whether it's a board meeting, conference, office party, or business luncheon, we customize our catering options to match the specific requirements of your occasion. With a broad menu and unmatched service, we promise an amazing dining experience that amplifies the calibre and expertise of your company.
Our carefully curated food selections satisfy the various culinary and nutritional requirements of your crew. With our corporate breakfast catering services, your business mornings will get off to a great start. Alternatively, use our office lunch catering services to raise morale and productivity in the workplace.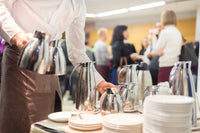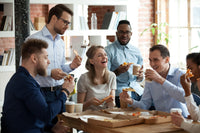 TAILORED TO YOUR NEEDS
Customized Catering Packages
Every business event is distinctive and merits a customized approach to catering, and at Ely's Fine Foods, we recognize this. Because of this, we provide specialized catering solutions created to satisfy your unique requirements and tastes. Our skilled event organizers collaborate closely with you to comprehend the details of your event, your guests' dietary restrictions, and any relevant cultural concerns. Then, to guarantee a memorable and enjoyable dining experience for everyone, we create a customized catering package that effortlessly corresponds with your event's goals.
RESERVE OUR SERVICES
Book Your Exceptional Corporate Catering Experience Today!
Ready to add a dash of culinary expertise to your corporate event? Get in touch with Ely's Fine Foods to reserve your personalized corporate catering experience in Toronto. Our devoted staff is happy to work with you to make your event a smashing success that leaves a positive impression on your attendees.
Contact us right away to go over your catering requirements, go through our extensive menu selections, and create a catering package that fits your demands and price range. Experience Ely's Fine Foods' recognized great service and culinary skill. Trust us to transform your business gathering into a memorable dining experience that sets the setting for success.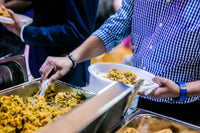 Frequently Asked Questions
Can you satisfy dietary preferences and restrictions?

Absolutely! We recognize the value of accommodating various dietary requirements. Our culinary staff can satisfy a variety of dietary demands, including vegetarian, vegan, gluten-free, and requirements for certain allergens. We make sure that there are delectable alternatives for everyone to eat during your event.
How do I customize my catering package?

It's simple to adapt your catering package to the needs of your event. Contact our event planners, and they will help you every step of the way. We'll talk about the specifics of your event, your dietary restrictions, the available menu selections, and any other details to develop a tailored package that meets your requirements and your budget.
Can you offer environmentally friendly and sustainable catering options?

Yes, we place a high priority on sustainability and work to reduce our environmental impact. To cut down on waste, we provide sustainable packaging alternatives and acquire our supplies from regional, environmentally friendly vendors. We'll be pleased to include sustainable practices in your catering package if you let us know your preferences.
How long in advance should I make a reservation for your catering services?

To secure your date and guarantee availability, we advise scheduling your catering services as early as possible. Ideally, we advise making reservations at least 2-4 weeks beforehand, especially for bigger events. However, feel free to get in touch with us if you have a last-minute event, and we'll try our best to meet your demands.
What is the corporate catering minimum order requirement?

Depending on the particular event, the menu choice, and the number of attendees, a different minimum order requirement can apply. Based on the requirements and spending limit for your event, our staff will consult with you to identify the best order size. We try to offer solutions that are adaptable to different event sizes and tastes.
Can you allow alterations to the catering order at the last minute?

We are aware that event specifics might vary, and we'll try to make any necessary last-minute alterations. In order to ensure a seamless and pleasurable event experience, please inform us as soon as you foresee changes. We'll work with you to amend your catering order appropriately.