Gifilte, Kugel, Tzimmes & More
Ely's Passover Classics
At Ely's Fine Foods we pride ourselves on offering a wide variety of unique, delicious kosher dishes. However, we still offer the classics when it comes to traditional Jewish dishes to help you celebrate Passover with your family and friends. From our Passover Seder Plate to our Potato Kugal and Gefilte Fish, you can choose from a wide selection of traditional and non-traditional dishes for your Passover celebration.
Our Passover Seder plate includes a ready-to-serve dish with Egg, Chicken Neck, Charoset, Parsley, Horseradish, and Romaine Lettuce. Our Passover menu is now live, take a look and place your order to secure your catered meal for this year's Passover celebration. If you have any questions about our kosher catering services in Toronto, contact our team today!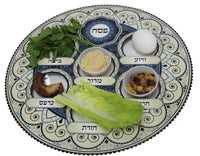 Celebrating Passover Seder
Traditional Passover Celebrations
Passover is a Jewish holiday that pays tribute to the exodus of the Jews from slavery in Egypt. Celebrating freedom, Passover is observed for seven days. During which, leavened food products are not eaten such as bread and pasta.
At Ely's Fine Foods, we offer a wide variety of traditional and non-traditional kosher dishes for you and your family to enjoy during your Passover celebrations. From Matzah balls and Potato Kugel to our Gefilte Fish, our delicious offerings are sure to be a crowd-pleaser. Our team at Ely's Fine Foods would be delighted to be a part of your celebrations with our catering services. Enjoy Passover and your family traditions to the fullest, explore our Passover menu today. 
Frequently Asked Questions
Do you offer kosher catering services?

Ely's Fine Foods is a 100% certified kosher catering and takeout service. We are certified by by the Kashruth Council of Canada (COR).

To become a certified Kosher food provider, our ingredients have been reviewed and inspected by one of COR's rabbinic inspectors. We have an ongoing relationship with COR where they make inspections every so often to make sure our operation continues to meet their standards.

We have been serving the Toronto Jewish community for over 25 years. Our chefs take great pride in serving unique and innovative dishes to our community for Passover and various other events year-round.

Explore our menu to view our wide variety of 100% kosher offerings
Can kosher food accommodate specific dietary restrictions?

Kosher food can absolutely be customized to accommodate specific dietary restrictions. At Ely's fine foods, our wedding catering packages offer a wide variety of options so you can rest assured all of your guests will be satisfied. Our menu includes gluten-free (GF), dairy-free (DF), vegetarian (V), vegan (VG), nut-free (NF), and dairy-free (DF) options. If you have any questions about our menu or dietary restrictions for your Passover celebration catering, feel free to contact us anytime.
How do I place an order for Passover catering?

To place your order for Passover catering please fill out this form as soon as possible before the deadline.

Once the form is filled out you can email it to catering@elysfinefoods.com
What is the cost of Passover catering services?

For Passover food delivery, due to the high volume the minimum order is $250 and there is a $30 delivery charge. Be sure to get your order in as soon as possible before the deadline
What is the deadline for placing a Passover catering order?

The deadline for Passover catering food delivery is March 27 or when we reach capacity. Be sure to get your orders in early!
Can I make changes to my order or cancel it after it has been placed?