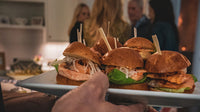 PRIVATE EVENT KOSHER CATERING IN TORONTO
Take Your Private Event to the Next Level
Are you planning a private event in Toronto? Are you searching for amazing kosher catering that will elevate your private event to a whole new level? Look no further! At Ely's Fine Foods, we are committed to delivering a culinary experience that's as memorable as it is delicious. With our expert team of chefs, a wide array of mouthwatering dishes, and a dedication to kosher cuisine, your private event is about to become an unforgettable occasion.
Our professional and attentive staff can be on hand to ensure that your event runs smoothly. From setup to serving, we can take care of every detail. Wanting more of a do-it-yourself experience? We will happily deliver the food and leave the hosting to you! Your private event should reflect your unique style and preferences, so we are happy to work closely with you to design a menu that suits your vision, dietary needs, and budget.
WHAT ELY'S FINE FOODS BRINGS TO THE TABLE
Unparalleled Kosher Culinary Excellence
Our passion for kosher cuisine is at the heart of what we do. When you choose Ely's Fine Foods for your next private event in Toronto, you're choosing a team of culinary artisans who understand and respect the traditions of kosher food preparation. We source the finest kosher ingredients, ensuring that every dish we serve is a true masterpiece of taste and adherence to dietary laws.
We are proud to offer Kosher private event menus that are diverse and carefully crafted to cater to all. From traditional Jewish dishes to contemporary kosher fusion, we do it all! Whether you prefer classic comforting favourites or want to explore innovative kosher dishes, we have you covered.
Contact Us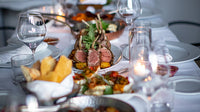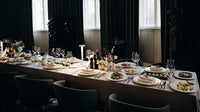 EXPERIENCE THE DIFFERENCE
Our Commitment to Excellence
At Ely's Fine Foods, we understand that a successful private event goes beyond just the food. It's about creating an atmosphere that fosters lasting memories. Our team is dedicated to going the extra mile to exceed your expectations, offering:
Impeccable Presentation: Our dishes are not only delectable but also beautiful, adding elegance to your private event.
Punctuality: We are committed to delivering our culinary creations on time, ensuring that your event flows seamlessly.
Uncompromising Quality: Quality is our trademark. Every ingredient is carefully selected, every dish is crafted with precision, and every event is an opportunity to showcase our culinary expertise. Experience the difference that is Ely's Fine Foods today.
RESERVE OUR SERVICES
Book Your Private Event Catering Experience Today!
Looking to add a professional touch to your next private event in Toronto? Get in touch with Ely's Fine Foods to reserve our team today. Our devoted staff is happy to work with you to make your private event one your guests will all remember.
Contact us right away and we can go over your catering needs, our extensive menu selections, and create a catering package that fits your demands and price range. Trust us to transform your private event into a memorable and stress-free dining experience.
Book Us Today